DMX-512 Transceiver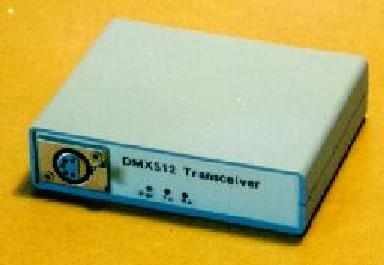 ***Notice: Contrary to an earlier notice we will NOT be discontinuing this product, it will be complemented by a USB interface DMX512 transceiver offering in Spring of 2002.
DMX-512 is often used for controlling static and intelligent lighting nearly everywhere, it has also been incorporated into the International Laser Display Association Standard Project specification for controlling effects. Holo-Spectra offers a very simple and low cost DMX-512 transceiver that simply plugs into the serial port of your computer! No need for an extra slot on the docking station for that notebook and no problems when it comes to non-PC computers, just plug it in to any RS-232C compatible port that can communicate at 115200bps. Full optical isolation is used to ensure complete safety of the host's serial port. The DMX chip set has been in use for over 4 years and has proven its reliability in several products and thousands of applications.
A simple protocol is used for sending channel information to the transmitter. Free software is available online or write your own. All your software need do is initialize the port then start sending data - in fact even a terminal emulator, such as HyperTerminal, can be used. The DMX-512/1990 output is continuously updated and needs no prompting from the host computer, just send new channel information whenever an update is required. Although DMX-512 allows for 512 channels only 256 channels are output by the transceiver to reduce cost, giving an update rate of 11ms for all of them. Reception of DMX-512 data is achieved without any intervention allowing channel levels to be read whenever required, the receiver section keeps updating as long as a DMX-512 signal is present. DMXtreme DMX Monitor software with a very user friendly interface is available for free download. A complete description of the host communication protocol can be found in the user manual.
External 9-12Vdc, center pin positive, is required to power the unit and a small plug pack (wallwort) will work fine. We offer an economical one that has the proper diameter pin (it is metric).
This product is sold as a complete unit and transmit or receive only versions are available if your special application requires only unidirectional DMX-512.
LINK TO USER MANUAL
$165 in stock USA
110VAC WallWort Power Supply $15
Send mail to bill@lasershs.com with questions or comments about this web site.
Copyright © 2001 Holo-Spectra Inc.
Last modified: January 06, 2000