Holo-Spectra started the ion laser refurbishment business nearly 40 years ago as the lone pioneer. We have been repairing and selling used lasers for a long time. We know how to deliver quality and stand with confidence behind our one-year warranty. Our laboratories include glass working equipment, a cleanroom for optical windowing, multiple high vacuum stations, molecular gas analysis equipment, and years worth of custom designed instruments. Whether we are offering new laser diodes, doubled green YAG's, or refurbished argon and whitelight lasers, you know you are getting expertly built and tested systems.
Red OEM Visible Laser Diodes (VLD's) 3-5 mw 635nm Modulatable DC - 100kHz w variable Collimation lens, 12mm diameter x 30mm. These new units are excellent for small systems and in-house testing and demonstration. You can take standard TTL blanking signals from graphics systems to control this laser for low cost blanking capability. $125
Red He-Ne OEM cylindrical Heads, Melles Griot w aperture and alden cables, polarized TEM00, 4-8mw, used $70-150
Potted 110/220 VAC solid-state drivers sold only with the above He-Ne's $85

The most exciting new technology for laser display is the emergence of doubled YAG lasers. Using non-linear crystals, the invisible infrared is converted to a lime green 532 nm beam. Our units use diode-pumping of the YAG crystal for efficiency and compact size. This is a laser line that, compared to red, is many times brighter to the eye so they make outstanding laser sources for graphics display. The systems include a modulation driver that requires between 12-25 VDC at about 10 Watts and a transition from 0 to TTL or 10VDC will completely turn it on and off for blanking capability. The power ratings are very conservative and actually before becoming thermally stable the power can be substantially more. Lasers include rugged protecting heatsinks. As of 6/98, these systems are not yet CDRH varianced for use in the USA. Current models are OEM and can be ordered integrated into any of our laser projector or graphics scanning packages.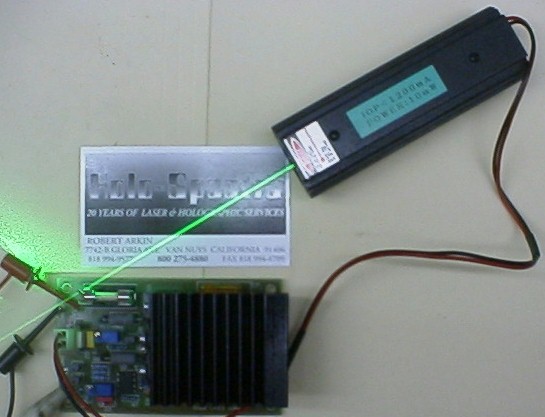 HS-DPSSG 100 mW Green Call as prices continue to drop
High Power Ion Lasers
These lasers are our specialty. We can provide you with blue-green argons, red kryptons, or full color mixed gas whitelight systems. We have lasers from medium power air-cooled to 28W large frames. We can provide new tubes, refurbished tubes and used tubes. Manufacturers are Coherent, SpectraPhysics, Lexel, and American. All lasers include a one-year warranty and are backed by our extensive inventory of systems and parts AND our unmatched 25 Years of Experience in the Ion Laser Refurbishment Industry.
Here are some sample systems. All have Holo-Spectra's full ONE-YEAR warranty.
Coherent 5W Argon CR-4 Refurbished System $9000
SpectraPhysics 5W Argon Md. 164/168 Refurbished System $10,500
SpectraPhysics 3.5W Whitelight 164 Colorshot w/ New Tube $14,200
Introducing: SpectraScan Coherent WhiteKnight™ 4W Whitelight System $12,000
Utilizing our refurbishing capabilities, we offer this Coherent Innova tube with Quartz Resonator
Laser Head and series passbank power supply. Mirrors are ultra-high density ion-plated broadband
optics to achieve this high power output. All parts are freshly anodized and painted. Full one-year warranty.
SpectraPhysics 20W+ Md 171 Argon Refurbished
SpectraPhysics 15W 171 Whitelight Refurb w/new SP tube

Send mail to bill@lasershs.com with questions or comments about this web site.
Copyright © 2013 Holo-Spectra Inc.
Last modified: March 21, 2013