SpectraScan Accent Laser Scanner Control
For
Marking -- Scientific/Industrial Applications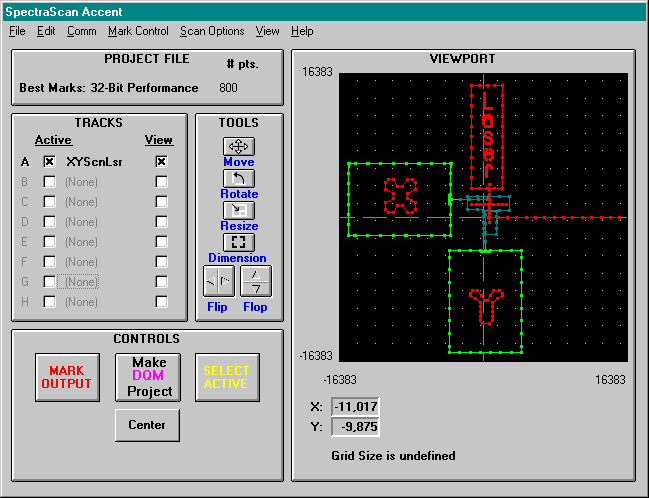 For most of Holo-Spectra's 25 years, we have been involved with laser scanning systems. We have worked with laser display, laser marking, laser cutting, signal acquisition, photopolymer writing, raster scanning, flow visualization, line creation, etc. We have worked with single axis scanners, XY scanning, and XY with variable focus scanning. Our projects have been based on General Scanning scanners and Cambridge scanners. We have built software and systems based on General Scanning's DSC controlled DE kits including variable focus systems.
Using our Accent Software packages and modules, older scanning applications can be upgraded while maintaining most of the hardware for substantial cost savings. This includes many previous marking systems and most General Scanning Applications.
SpectraScan II Accent™ consists of the following elements:
SpectraScan II Accent™ Control Software and Support Modules
It may include the following dependent on application.
Accent™ Project Creation, Editing, & Control Module
Accent ProMark Microsoft Access Database Parts Interface
Sketch or Visio OLE Drawing Modules
AccentConverter for Corel, AutoCad, etc. Auto File Conversion
AccentRastaMan Raster Scan Utilities
QuadMod32 Microproccessor Scan Computer Board: 68030 on board, 16MB RAM, ROM with LaserCommand API, 16-bit primary D/A outputs for scanner amplifiers, multiple 16 and 8-bit D/A outputs for laser power, duty-cycle, Q-switch modulation, etc, and TTL signals for blanking and shutter, and 16 bits of IO for process control.
SpectraScan II Accent™ is intended for use in the following Laser Marking Applications or Scanning Control Systems:
OEM Laser Scanner Control or Marking Systems
Control Modules for Marking Equipment Manufacturers
Retrofit Upgrades for all Previous Scanner-Based Systems using General Scanning or Cambridge scanners
Raster Scan Patterns
Alignment Pattern Display and Pattern Visualization
Direct Draw Photoresist Exposure Systems
Flow Visualization Scanning
Take the SpectraScan Accent Tour
SpectraScan Accent Introduction
SpectraScan Accent Technical Specs
DownLoad Accent PDF file
Key Benefits
Modern Win95/98 Software Interfaces
OLE Automation for Remote Network Control
Low Cost Hardware Alternatives

QMod32 Laser Scanning Computer on a Board

Send mail to bill@lasershs.com with questions or comments about this web site.
Copyright © 1997 Holo-Spectra Inc.
Last modified: January 06, 2000