Another fine product that we distribute from MediaLas Germany, this projector is a standalone system with internal microcontroller and memory. Using either red visible laser diodes or green doubled YAG's, this system is outstanding for tradeshow communication, point-of-sales displays, and venues that want a continuously looped laser display. You can create and edit images and animations making laser songs with a variety of scene transitions on your PC with the included software. Then you download via the parallel port to the CatPro. You can adjust point output rate, image size, and, for the red vld, focus. Your display is a beautiful laser presentation from the twice ILDA award-winning CatWeazle Scan Engine!
Program your display with scrolling text, image morphs, rotations, image zooms, and movement. You even have an ILDA-converter for import of ILDA standard frames.
The CatWeazle scanners provide a fast 18K of scanning over a 40 degree optical sweep.
Versions are available with 5 or 10 mw red laser diodes. For more effective displays, you can select from 10 to 50 mw of brilliant green from solidstate doubled YAG lasers.
Download Software Brochure in PDF format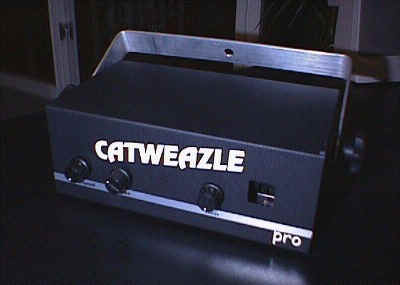 Compact with EasyToUse Interface ** Endless Laser Display for All Your Communication Needs