กก

Laser Entertainment Systems

Fantastic DMX Economy Projector!!

Try out our New Visual Gallery!

Learn about laser effects and equipment by Looking at them!
40 Years of Innovation
Welcome to the Laser Entertainment Services and Products division. We are proud of our 30 year history and involvement with laser shows as well as the continuous development of new industry innovations. We wrote one of the earliest laser graphic programs for the Apple II and we are still innovating with our newest SpectraScan2000 software programs -- LDGraphic Converter, SpectraText, and Wizard2000 for use with the world class Pangolin LaserShow Designer2000 software and QM2000 boards. If you don't think this is the world's best laser software, check out the overwhelming advantage in world technical and artistic awards. Our SpectraBeam multi-port beam projectors are all digitally controlled and can be run by either our EffectsWizard software on a PC or via ILDA-standard DMX input. And digital actuators is exactly what you have when you use the STP 8X Actuators from MediaLas which we are pleased to be distributing. We are also very proud to distribute their 1997 and 1998 ILDA Technical Award winning Catweazle scan engine - modular, low cost, and FAST. Scan a 30K point output rate ILDA pattern at 10 degrees at less than half the cost of a Cambridge solution! Be sure to read the excellent review of this fantastic scanning system in the Laserist Magazine. And look what we have done with this innovative product: we have partnered it with a solid-state green laser and another major product breakthrough, LD Intro laser software. What you have is the world's finest smallest economy laser graphics system, The Cat's Meow . Want a low-cost system for point-of-sales, tradeshows, or other custom display requirements? Add flash memory and an internal CPU to the CatWeazle and laser and you have CatPro, a complete standalone graphics display system.

Of course our SpectraScan2000™ Laser Graphics system with high speed Cambridge Scanners, 8-channel PCAOM color control, and LD software control remains a world favorite. This system has recently been improved with the addition of our TomCat LD differential/opto-isolator board. They are continuously being sold to other laser show professionals for use in commercial performances around the world. Their reliability and capabilities have been repeatedly attested to by their uses in shows such as the Rose Bowl July 4th Show, Kuala Lumpur Menara Tower launch, Terminator II teasers, and Paramount's Days of Thunder and Another 48 Hrs. Permanent laser systems have been installed in discos and theme parks worldwide such as Hilton Airport Hotel Calif, UpDown in Cancun, Baby'O in Acapulco, Zodiak in Jakarta, Siam Park in Bangkok, Thailand and Jaya Ancol in Jakarta.

Look around and you are sure to learn more about Laser Entertainment and our products. If you are new to the field, be sure to visit the Laser Glossary and perhaps the guide to Laser System Configuration where you can see how a total system is designed from components. This section is also an introduction to pricing. You might like to see our general company References and our Laser Projects history. Don't miss the extensive information regarding the powerful LaserShow Designer systems. This software/hardware combination is the basis of our most advanced laser display systems.

Our line of products is one of the broadest and most advanced in the industry from complete systems such as the Millennia 2000 projector or portable innovative LitePipe projectors to professional board level products like Tomcat differential and opto-isolation signal conditioner to outstanding cost effective scan engines like the CatWeazle to our SpectraScan software programs.

SpectraScan 2000 Systems - NASA Technology for your Laser Shows
Our technical staff has the experience to handle anything from intricate stage or industrial trade shows to custom equipment configurations and software design. Holo-Spectra has logged decades of man years in the production of laser performances and projection equipment for special events, audio-visual applications, permanent venues and touring shows. Our company is known for its advanced photonic design and laser repair services for NASA and major government and university labs. We are the only laser entertainment company that functions in this highly technical domain and are proud to transfer this technology to the entertainment world. You will find we are continually at the forefront in the use of advanced components, optics, and software technologies; it is both our skill set and the adventure we favor.

It is not possible to overstate the creative power and ease of use of SpectraScan2000™ LaserShow Designer2000 systems in conjunction with our powerful extension software. LD2000 is overwhelming the most successful professional laser entertainment software in the world with features like full 3D, 6 independent channel PCAOM, and of course the unmatched Drag-and-Drop ShowTime laser-song creator. With our SpectraScan software programs, LD2000 Graphic Converter for direct conversion of PC vector graphics from Draw programs like Corel, and Wizard2000 for total real-time performance control, the professional laserist finds himself armed to the teeth like our friend above--ready to set the laser performance world ablaze.

Laser Entertainment Systems are based on two primary hardware subsystems: the laser graphic engine and the laser projection table/rail. SpectraScan2000™ Laser Graphics system is our outstanding high speed full color graphics projector. A compact economy version is The Cat's Meow. SpectraBeam tables and rails are the other key component. Our most popular projector variations are the Millennia 2000 and the portable innovative LitePipe At Holo-Spectra, they are completely digital and support DMX control. Using PC Windows software programs communicating to the table by digital interconnects, we control digital actuators and digital effects such as rotating diffraction wheels, lumias, and stepper-based rotating positionable Machidas. The projectors can also be controlled by standard DMX lighting consoles such as the low cost Leprecons.

Besides complete systems, we offer an inclusive line of support equipment: lighting controllers, scanners and amplifiers, retro-reflecting bounce mirrors, DMX-controlled postionable bounce mirrors, lumias, remote digital sheet scanners, cone generators, 180o high density Machida diffraction gratings, and fiber optic effects and delivery systems. Holo-Spectra also offers our exclusive high power/damage resistive nickel holographic diffraction gratings, in single and dual axis.
Lasers R'Us
If you need to consider lasers for your installation, remember Holo-Spectra is distinctly the only laser entertainment company in the world that is also a laser repair and resell company. Well over 20 years ago, we began the independent repair of ion lasers as the sole pioneer in this area. For you, this means the best deals on lasers and the most knowledgeable and capable service for laser problems. Please take a look at our Entertainment Lasers listing. Our one-year warranty on all equipment is made that much more valuable because of these multiple synergetic skills.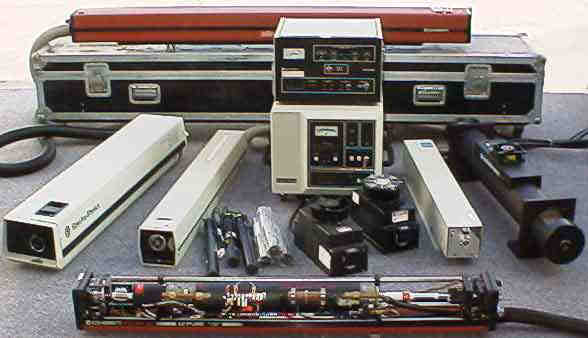 The World's Alphabets in Laser!
Holo-Spectra is very much an international laser company. There is no continent where our products can't be found. We believe in working with the world's languages. For example, our president wrote the only direct laser Thai writing software for the government Photonics Research Laboratory. Windows95 supports many languages and we have been working to use this power in our own software. LD Graphic Converter can take any font in any alphabet found in Win95 and directly convert it to laser viewable. Now you can quickly see Thai, Hangul, Chinese (www.lasershow.com.cn), Kanji, Arabic, Hebrew, Cyrillic, etc. in laser display. Our newest program, SpectraText, makes it even easier to directly convert TrueType fonts, including non-western glyphs, into laser projectable images. Further, we are localizing our programs into languages requested by our world distributors and clients. Please contact us with your interest.

Free Software and Laser Frames
are free to use in your productions. These were generated by LD Graphic Converter by ourselves and the many users of this powerful PC image to laser format tool. We will continually be adding new converted frames for laserists around the world to freely use. If you use ILDA format frames, we are also converting them from Pangolin LD formats using our QM32-only shareware program Formatamatic. Soon we will offer DEMO versions of our SpectraScan software for download. Please visit the Download Section.

Key Benefits
Our most valuable asset -- over 30 YEARS of innovation and experience!
The ONLY Laser Entertainment Company that is also a Laser Repair & Services Company
Sophisticated Software Programming Skills means the latest Tools & Techniques in Laser Display
A complete manufacturing facility: machine shop, welding, high vacuum systems, plating, glass lathe, and test instrumentation
International Experience & Attitude -- Non-Anglo Alphabet Support and Language Localization

Holo-Spectra Inc.

40 Years of Laser Services and Products

7742B Gloria Ave., Van Nuys CA 91406

818 994-9577 Fax 818 994-4709

email info@lasershs.com

Bill Arkin: Pres Robert Arkin: VP Eng

One of World's Largest

And Oldest Dealers

27 Yrs!

This photo of the Terminator comes from Holo-Spectra's laser effects on "Terminator2". We also created the original laser gun in the first "Terminator".
Send mail to bill@lasershs.com with questions or comments about this web site.
Copyright © 2013 Holo-Spectra Inc.
Last modified: May 15, 2013
กก